MASTER OF SCIENCE (MS) IN
Nursing, concentration in Nurse Administrator
Online
Program Overview
MSN-prepared nurses act as thought leaders, providing healthcare leadership to patients and healthcare professionals. They have the opportunity to move up the career ladder, pursue a specialization and serve as mentors to new nurses.
Program Format

Online

Credit Hours

33-39

Tuition Per Hour

$440
Prepare for Leadership with an MSN from The University of Alabama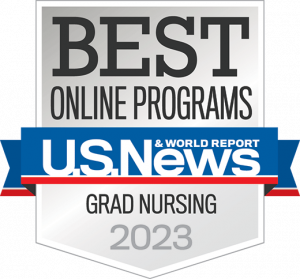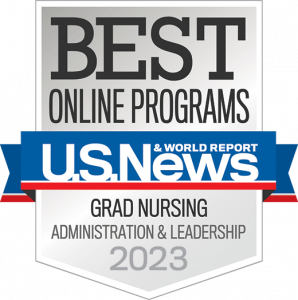 As a Nurse Administrator, you will focus on policy and operational issues, such as nursing shortages. You will spend time meeting with other key healthcare leaders, reporting on outcomes, and developing programs and policies that ensure safety and high-quality nursing care.
Nurse administrators hold a variety of executive-level positions, such as director of nursing services, clinical coordinator and chief nurse executive. They often oversee several departments and report directly to senior leadership.
As you seek to make a greater impact in the nursing profession, UA's online MSN Nurse Administrator program can make advancing through education both affordable and attainable. This accredited program features faculty known nationwide for their contributions to the field and who are passionate about helping others achieve their goals in the future of nursing.
The master's degree program in nursing at The University of Alabama is accredited by the Commission on Collegiate Nursing Education.
Application Deadline

March 1 for fall admission; August 1 for spring admission; December 1 for summer admission

Ranking

Ranked 9th for best online MSN programs for Nursing Administration/Leadership by U.S. News & World Report (2022)

Required For Entrance

RN licensure

Practicum

Yes
Curriculum
Students who focus on Nurse Administrator will complete 33-39 credit hours and can choose to pursue the program either full-time or part-time.
Please note that courses are subject to change.
Required Courses
NUR 500: Population Health
NUR 503: Informatics in Healthcare
NUR 507: Organizational and Systems Leadership
NUR 519: Health Policy and Finance
NUR 514: Research and Evidence-Based Practice
NUR 549: Roles and Leadership in Nursing Administration (Didactic)
NUR 550: Roles and Leadership in Nursing Administration Practicum (180 Clinical Hours)
NUR 551: U.S. Health Care Systems and Quality & Safety (Didactic)
NUR 552: U.S. Health care Systems and Quality & Safety (180 Clinical Hours)
NUR 553: Advanced Financing and Strategic Planning in Health Care
NUR 554: Advanced Financing and Strategic Planning in Health Care Practicum (180 Clinical Hours)
NUR 599: Thesis (Optional)
This program requires a field placement component and it is the student's responsibility to secure a site for the field placement.
Watch a previously recorded online information session.
Admission
Applications are accepted each semester. You must submit all documents by March 1 for fall admission, August 1 for spring admission or December 1 for summer admission.
Admission Requirements:
GPA of at least 3.0 overall based on 4.0 grading scale or a 3.0 for the last 60 semester hours of undergraduate work
Baccalaureate degree in nursing from a regionally accredited school of nursing
Current unencumbered RN licensure in a state currently approved for admission. View the states from which the Capstone College of Nursing currently accepts applications for admission.
Contact Vickie Samuel at (205) 348-8163 or vickie.bama@ua.edu for specific information on the application process.
If you reside or intend to seek professional licensure outside of the state of Alabama, please review the requirements for that state prior to applying to this program.
How long is the program?
3-6 semesters (1-2 years)
Are there any campus visits required?
How many clinical hours are required?
Do students find their own clinical sites?
Students are expected to find individual sites and preceptors; however, the Capstone College of Nursing will assist students with this process to secure a clinical affiliation agreement with the health care agency.
You Can Do It
At The University of Alabama we want to help you tell a legendary story, and that begins with a premier education and strong support. You can succeed at earning your degree from wherever you are. Want to know more? Let our graduates tell you their UA Online stories.
Student Spotlight
Inspiring stories of success from students and alumni.
Take a look at some of our UA Online stories.
See All Stories