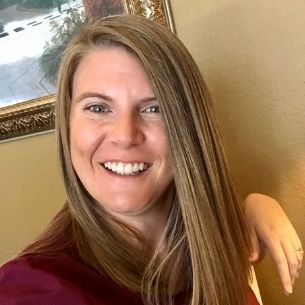 Kimberly Daniels was accepted to a few different colleges after high school in 1999, but she couldn't afford to pursue her degree full time. "The money just wasn't there. I was working at Walmart making $15,000 a year, and there was only so much I could do."
She took a few night classes at a community college, but soon she got married and began her family, and as she put it, "life took over." She spent over a decade working as a dental office manager, and her husband encouraged her to expand her career potential by going back to school to finish her degree. "Not having a degree is OK when you have some jobs, but when you start looking for something else, that college degree becomes necessary. I had the experience, but I wanted to back it up with something prestigious."
To get started, Kimberly earned her associate degree from Coastal Alabama Community College in May 2020. Once she was a Coastal graduate, she reviewed her STARS report to see which four-year universities would accept the most transfer hours. "It came down to UA and one other school, and we're Alabama fans at my house, so I was definitely already interested in UA. When I looked at the cost, UA's online tuition is considerably lower than the other options. It kind of made the decision obvious."
UA's distance tuition passes along the institutional savings of a technology-enabled education to the student. However, a degree earned online from UA is identical to one earned on campus. Kimberly applied and was accepted to the 100% online bachelor's in Commerce and Business Administration program immediately after completing her associate degree, and she said the support she received as an online student proves she made the right choice.
"The follow-up and follow-through have been great. Once you are accepted, they're good about reaching out to help you stay on track with your next steps. I feel like they want everybody to succeed. I haven't run into anyone who's been difficult," she said. After Kimberly was admitted, UA staff made sure she knew about the Bama Link grant, which covers tuition for the first class of an online program at UA for graduates from Alabama community colleges and other select out of state community colleges.
In addition to the grant, Kimberly is especially grateful for her adviser, Anne Margaret Vincent. "She works with my schedule and helps me make sure I'm registering for a good balance of classes every semester, so that I'm not too overwhelmed."
Kimberly has continued to work full time as she learns online, and she usually takes three courses at a time, bumping down to two courses in the summer because of the shorter terms. Her 15-year-old daughter keeps her busy, too. "She's in the marching band, and I'm a band mom, so my Friday nights are spent selling raffle tickets and sandwiches, taking down and setting up equipment."
Even while balancing all of these roles, Kimberly is excelling in her online classes, making the President's List each semester so far. "Every semester that I see that 4.0, I order myself a treat from the Supe Store – a coffee mug or a sweatshirt or something. It's just a little reward for myself so that I'm not only buying textbooks from there!"
As she succeeds in her classes, they are helping her enhance her methods at work and home. "I'm minoring in Computer Technology, and I've taken a few Excel classes. They've been an eye-opener for sure. Who knew it could do all that stuff? I use spreadsheets for payroll and for production and collection reports, and I use them in day-to-day life, too – for recipe planning and budgeting. The classes have helped me do all of those things better," Kimberly said.
In addition to sharpening her spreadsheet know-how, earning her bachelor's has already helped Kimberly make big changes in her work life. In July 2021, she is shifting her career to be a credit analyst at a compressor manufacturing company. "We discussed my bachelor's in my interview. They were very pleased I was already working toward it. I'm excited for this transition in my career."
Kimberly is on track to graduate in December 2022, and she's considering a master's so she can teach at the college level in an online program one day.
"Going to UA felt untouchable, especially for me as a first generation college student at 40. When you have a job and a family, you can't just pack up your life and move to go live on campus. The online program has really been convenient and wonderful. I'm super-excited about graduation – already have a spot picked out on the wall for my degree, and I'm looking forward to walking the stage at graduation."
---
Published: July 23rd, 2021