Lt. Laura McDonald honored for commitment to law enforcement, marine safety and training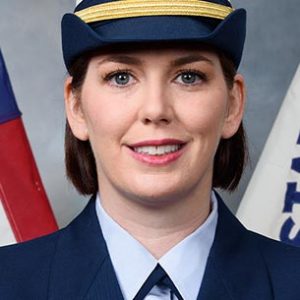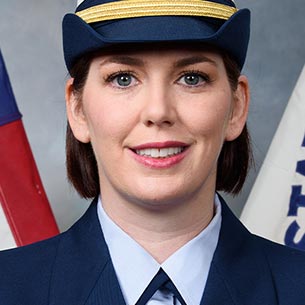 Coast Guard Lt. Laura McDonald's dedication to service is driven by a desire to go above and beyond for the communities she serves. Her mission to keep people safe has led her to military work in law enforcement, marine safety, teaching, and sexual assault prevention and anti-harassment training during her 11 years in the Coast Guard.
Now, The University of Alabama Online is celebrating her accomplishments by naming her the recipient of the first UA Online Legendary Service Award. The award honors a past or present military service member who has demonstrated legendary service to their country and community. As the award winner, Lt. McDonald will receive a tuition grant and will be honored during the Nov. 13 Alabama-New Mexico State game on the field at Bryant-Denny Stadium.
The people she serves as a marine safety inspector keep her motivated to give her best every day. "It's very easy for me to correlate if I slack off or if I'm not giving my best effort, that's directly impacting people that I signed up to help," she said.
Lt. McDonald's commitment to maintaining a safe environment extends beyond her marine inspection work. She leads monthly sexual assault prevention and anti-harassment classes for approximately 100 junior enlisted members and is an accredited victim advocate through the National Advocate Credentialing Program.
"At the tail end of junior enlisted members' leadership training week, I get a couple hours with them to go over REACT, which is our bystander intervention training for sexual assault, and that is really cool because of the impact of the program," she said.
Inspired by her love for true crime movies and shows, Lt. McDonald's earned her bachelor's degree in Criminology and Justice Studies from California State University San Marcos. She began her Coast Guard career in law enforcement, conducting fishery boardings and other drug and migrant operations.
After two years in Coast Guard law enforcement, she pivoted to her current career as a marine inspector and investigator. She still leans on her undergraduate studies and law enforcement experience, applying her investigative skills in a marine safety context to prevent damage and loss of life at sea. In the last three years alone, she has overseen more than 150 commercial vessel inspections and 245 marine casualty investigations, managed over 500 miles of commercially navigable waters and facilitated the safe movement of $42 billion in commerce. Lt. McDonald sees her work as a partnership between herself and the people that she's enforcing regulations on — they are equally invested in their safety and the safety of their vessel.
"That's huge to me to know that potentially the things that I inspected on the vessel or through my investigations and recommendations to the community, I might have prevented a mariner from being injured or killed or the ship sinking," Lt. McDonald said. "I feel like that's a major impact to the community. I'm always drawn to that teamwork aspect."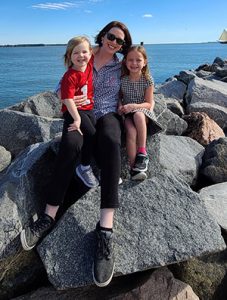 Lt. McDonald passes on all that she's learned to apprentice marine inspectors and investigators as a teacher at the Coast Guard training center in Yorktown, Virginia. As she advances in her career, Lt. McDonald wants to continue to expand her own skill set. She is currently earning her master's in Communication Studies from The University of Alabama Online to prepare for future leadership opportunities.
"If I continue to move up into the senior ranks, communication is going to serve me well. I'm excited to apply what I learn through this degree to improve the organization," she said. "My whole job is really communicating during inspections, investigations and to students, so this degree program felt like a natural fit."
Juggling a military career with family (including her husband, Daniel, and two children, Hadley and Raelynn) and a degree program is challenging, but Lt. McDonald said her UA Online professors have been responsive and understanding. Her leadership in the Coast Guard has also been supportive of her professional growth.
"It's not a taboo thing to be typing away at a paper between work commitments, because they want to see you seeking out education and improving yourself. That support system from all ends is the foundation for me being able to do this."
Lt. McDonald encourages other service members interested in continuing their education to not wait for the perfect moment, but to dive in and get started.
"My advice is always, 'Don't wait for everything in your life to be what you define as "perfect" or "perfect timing" to start a family, start school.' If you're waiting for whatever you define as the perfect element, just do it. Live life and don't let life keep you from living."
---
Published: November 13th, 2021