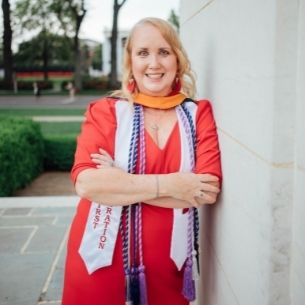 UA Online originally interviewed Tina when she was finishing the online Bachelor of Science in Nursing program.
In May 2019, Tina followed in her son's footsteps and graduated from The University of Alabama with a Bachelor of Science in Nursing, which – unlike her son – she earned 100% online while living in South Carolina.
After completing her BSN, Tina received a pay raise in her job as an oncology night shift nurse, which she was thrilled about, but she wasn't finished yet. "One of my professors encouraged me to go as far as I can with my education," she said. She began UA's online MSN with a Nurse Administrator concentration the fall semester after graduation.
Even as she followed her professor's advice, she was apprehensive. "I was nervous and hesitant to start, honestly. I told myself if I didn't like it or if it was too hard, I wouldn't stay in it. I didn't feel like I was smart enough. But then I started making A's, and so I had to change my psyche to remind myself that I could do this!" Tina maintained a 4.0 GPA throughout the program.
"The first year is just coursework, which is all online. But the second year, you have to get in 540 clinical hours in three semesters," Tina explained. Luckily, the hospital's approval for Tina's BSN clinicals was still active during the required clinicals for her MSN, so she completed her requirements at her home hospital. "I would work Friday and Saturday nights for my job, and then I would turn around and work day shift during the week to get my clinical hours in. I was so fortunate to do clinicals with my nurse manager, Theresa Altman. She's the best and precepts so many people."
Tina found the Nurse Administrator program challenging and beneficial. As a nurse for over 30 years, she's been in leadership roles before, but she found the coursework especially helpful for understanding the other side of patient care and the mindset required for effective nurse administrators. "I learned a lot about finance and how different hiring decisions affect the hospital in terms of budget and patient care. It was fascinating learning that side of nursing and how significantly different decisions can affect not only the hospital's budgeting but also saving the patient money."
She's especially been grateful for UA Capstone College of Nursing professor Dr. Teresa Welch. "Dr. Welch made us feel like she was available to us 24/7. We had her cellphone number, and she told us that she checked her email once a day, but outside of that we could text her and she would reply within
five minutes. She listened to us and provided us with the material we needed to be successful."
Thanks to her professors and preceptor – and her own hard work and dedication – Tina graduated in July 2021. She traveled to Tuscaloosa for commencement ceremonies, where she wore a mortar board she had decorated herself with the script A, elephant and Roll Tide Forever. She met a few friends face to face for the first time at graduation – a group of five women in her MSN program who have stayed in daily contact through GroupMe since their first class. "We have been in constant contact these past two years about school, work, personal stuff – everything. And just because we've graduated, do you think we're not going to be friends anymore? Absolutely not! I'm just changing the GroupMe title to Alum."
When she graduated, Tina's preceptor gave her a special gift: a copy of the popular children's book "The Little Engine That Could" along with a small plaque that reads, "Be the change you wish to see in the world." Tina teared up as she discussed what the gift meant to her and how her preceptor and professors have encouraged her to pursue an
even bigger dream.
"I've wanted a master's degree from the minute I became a nurse. I wasn't financially able to go to a four-year university when I graduated high school, even though I got into two great universities. So I'm very proud of myself and how far I've come, and I'm excited to say I'm submitting my application for UA's online Doctor of Nursing Practice program!"
If all goes according to plan, Tina will begin the DNP program in January 2022. As a UA graduate, she will qualify to get her first class for free through the Build on Bama tuition grant.
"This master's is doable working full time, even with the number of clinical hours. I learned so much. If you put your mind to it and work hard, you can do this! And whether I make it to the nurse manager level or not, I'm OK. I have a master's degree from the best university there is. I'm very proud to be an alumna for the second time."
---
Published: August 18th, 2021