We've Got Your Six – Online Degrees to Help You Succeed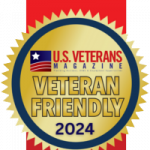 You know what commitment really means. You have discipline, flexibility and determination. We couldn't build a better student if we tried.
The University of Alabama is a Top 10 Tier 1 Research Institution Military Friendly® School and a Military Spouse Friendly® School for 2022-2023. These awards recognize the University's efforts to address not only the concerns and needs of members of the military, but also those of their spouses and families. Additionally, U.S. Veterans Magazine recognized UA as one of the 2022 Best of the Best Top Veteran-Friendly Schools.
The University is an unlimited Yellow Ribbon school, meaning that all students who qualify for Yellow Ribbon under the Post 9/11 GI Bill® will have all out-of-state tuition and course fees covered. Yellow Ribbon status is indicated on your Certificate of Eligibility. (Yellow Ribbon only covers out-of-state tuition.)
Prior to enrolling at The University of Alabama, please speak with your Educational Service Officer (ESO) or counselor within your military service.
For more information about our programs, fill out the form below.
Loading…