We've Got Your Six – Online Degrees to Help You Succeed
You know what commitment really means. You have discipline, flexibility and determination. We couldn't build a better student if we tried.
But over the years, we have built a better way to earn your degree with education that fits your life. No matter how you serve — as active military, in the reserve or even as a veteran — you can earn your degree from our distance learning programs, and we can help you do it. Your experience in the armed forces has prepared you to succeed. Take a moment to review the tabs on this site and you'll find out how we can help.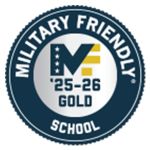 The University of Alabama is a Top 10 Tier 1 Research Institution Military Friendly® School for 2022-2023, and U.S. Veterans Magazine recognized UA as one of the 2021 Best of the Best Top Veteran-Friendly Schools.
The University is an unlimited Yellow Ribbon school, meaning that all students who qualify for Yellow Ribbon under the Post 9/11 GI Bill® will have all out-of-state tuition and course fees covered. Yellow Ribbon status is indicated on your Certificate of Eligibility. (Yellow Ribbon only covers out-of-state tuition.)
Prior to enrolling at The University of Alabama, please speak with your Educational Service Officer (ESO) or counselor within your military service.