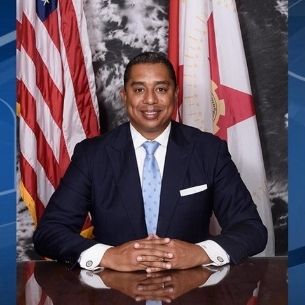 Jay Roberson dreamed of playing football for the Crimson Tide and one day graduating from The University of Alabama. But after high school, Jay was recruited to play football for Middle Tennessee State University and took advantage of an athletic scholarship to play there; he later transferred and graduated from Alabama A&M University in 1996 with a bachelor's in Telecommunications.
After college, Jay stayed close to sports arenas. From associate commissioner of the Southwestern Atlantic Conference to associate director of athletics at Samford University to his current roles as president of his own sports marketing and management company and vice president for the World Games 2022, he has enjoyed a successful career that blends his passion for athletics with service to athletes and communities. He also served on the Birmingham City Council for nine years and sits on a number of distinguished advisory boards and committees.
And in 2020, when the world was postponing events, cancelling lineups and broadcasting games with limited attendance, this executive-level sports tourism professional with decades of experience was going back to school.
"It was time," he said. "We are a very busy family with three children. We know how to multitask collectively, and 2020 offered a great downtime. I could study, work and do all the things I needed to do and still spend time with my family. My wife and kids were very supportive of my pursuit of my master's,
and they kept inspiring me to get it done."
Jay followed his childhood dreams back to The University of Alabama and completed his master's 100% online in Hospitality Management with a concentration in Sport Hospitality. "I shopped around, but what better place to do it than The University of Alabama? The brand is so strong when it comes to sports and athletics, and the leadership of the program – Dr. Ken Wright and Dr. Melvin Lewis – were tremendous. They encouraged me and helped me through the application process well."
Jay started the program with three classes in the fall, added a fourth class to his load for the spring, and completed it with the three remaining classes in Summer 2021. The online delivery of the courses made it possible for him to pursue his master's while balancing family, career and community service demands. "It was accommodating to my schedule and daily life. Being able to do everything online but still get the same interaction that's needed with
professors was great and very helpful throughout the process. I would do it again."
The coursework has complemented his vast experience in sports hospitality by enhancing his ability to serve in his current and future roles. "It was a good refresher in some areas, and it really helped me on the administration side. I knew that hospitality and tourism tied into sports, but now I have a much better, more holistic understanding of how sports can be an economic engine for towns like Tuscaloosa with football and Birmingham with the World Games. It was definitely a good opportunity for me to learn more about the new things that are happening in the tourism and sports industries," he said.
In addition to enhancing his knowledge, having his master's will help him advance his already impressive career. "I could've gotten my master's while I was working at Samford, but with my public service at the time, I just didn't have the time to devote to it. I wanted to elevate my career in collegiate athletics, and I recognized that
having the credential of a master's on your resume was providing opportunities for others that I was not seeing without it. When the World Games is over, I want to get back to higher ed or professional athletics administration, and I know this master's will help me."
In July, he and his family traveled to Tuscaloosa so he could participate in graduation. The weekend was a celebration of a lifelong dream realized.
"God has a plan for you in His own time and His own way. I thought maybe I'd play football there after a high school state championship round, and that didn't happen. But I was able to graduate from UA without playing football there, and I got a very prestigious and world-class experience. And my legacy –my kids and grandkids can say their granddaddy graduated from The University of Alabama. To get a master's – it's been a long time coming. I am elated that I was able to do it at this time."
---
Published: August 19th, 2021