Master of Arts (MA) in
Instructional Technology
Online
Program Overview
The online Master of Arts in Instructional Technology program teaches graduate students how to design training models and online courses to engage learners in business, government, health care and educational environments. Students will have the opportunity to explore trends in instructional design and technology, computer-based instruction, game-based learning, project management and administrative technology.
Program Format

Online

Credit Hours

30

Tuition Per Hour

$440
Real-World Experience
You will have the opportunity to apply your IT knowledge while developing an instructional solution for a local business or community organization. An internship elective (virtual or face-to-face) is also offered; partner with an instructional design and technology mentor and gain crucial real-world experience working with businesses, higher education and P-12 instructional providers.
Flexible and 100% Online
This fully online 30-credit-hour program is designed to meet the needs of working adults. All courses are offered on a semester schedule (fall, spring and summer), which allows students to complete the program at their own pace. Tuition is the same for in-state and out-of-state students, and scholarships are also offered.
Instructional Technology Careers
Our MA in Instructional Technology graduates pursue doctoral degrees or work in the following positions: instructional designer (ID), senior instructional designer, instructional technologist, training, learning and development, ID manager, educational technologist, educational specialist, e-learning developer, IT manager, ID consultant, and K-12 and higher education teachers and professors. Many of our graduates hold instructional design and training positions with national companies, including USAA, Cracker Barrel, Texas Roadhouse and Cigna.
Blend Technology With Instruction
This top-ranked 30-credit-hour program may be completed in as little as two years of part-time study. You will learn from expert faculty who are well-versed in the topics and trends of the instructional technology field. The curriculum is designed to equip you with the skills needed to advance your career in instructional design, instructional technology, learning and development, training, e-learning and educational technology.
Graduation requirements include the completion of coursework and a comprehensive portfolio showcasing projects completed throughout the MA in Instructional Technology program.
All undergraduate majors are welcome to apply. This program does not lead to certification or licensure in P-12 education.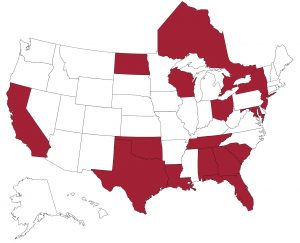 UA's Instructional Technology master's degree program has attracted more than 126 students from 26 states and Ontario, Canada. The 10-course program is 100% online, designed for those who are also working full-time. Most complete the degree less than two years, during which students gain both practical knowledge and hands-on internship experience in corporate, higher ed and K-12 design and technology environments.
Curriculum
The MA in Instructional Technology program requires the completion of 30 credit hours. With advisor approval, students select courses and electives that allow them to focus on their own areas of interest. Please note that courses are subject to change.
CAT 531 Computer-Based Instruction
INTE 532 Instructional Technology Design
INTE 533 Online Teaching and Learning
INTE 534 Issues and Trends in Instructional Technology
INTE 535 Analysis, Implementation and Evaluation of Assistive Technology (elective beginning Fall 2023)
INTE 536 Assessment and Evaluation in Instructional Technology (elective beginning Fall 2023)
INTE 589 Instructional Technology Research and Product Development
INTE 537 Game-Based Learning
INTE 538 mLearning
INTE 539 Special Topics in Instructional Technology
INTE 540 Planning and Managing Technology Projects
INTE 541 IT Leadership and Administrative Technology
INTE 542 IT Internship
One advisor-approved course outside of the Instructional Technology program
View more information about this program through the University's catalog.
Admission
Applicants must meet the following admission requirement:
Bachelor's degree from an accredited institution
A completed application package includes unofficial transcripts from all institutions attended, three letters of recommendation, a statement of purpose and a Graduate School application.
Application Priority Deadlines:
Fall admission – July 1
Spring admission – Nov. 1
Summer admission – April 15
This program does not lead to certification or licensure in P-12 education.
Student Spotlight
Inspiring stories of success from students and alumni.
Take a look at some of our UA Online stories.
See All Stories