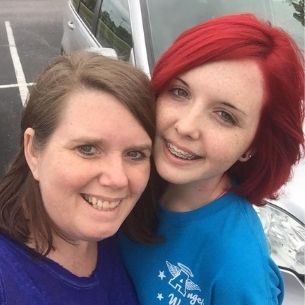 After years living in Hawaii, Kim Eaton and her daughter Angel moved back to Tuscaloosa, where Kim got a job as a communication specialist for The University of Alabama. "When I got hired, I was really excited because as a UA employee, you have that educational benefit. I love learning new concepts and meeting new people, so I took a few classes while I worked."
Soon enough, she was interested in getting her master's. Angel encouraged her to go for it. But before Kim enrolled in classes, they learned they had an urgent challenge to face first – Angel was diagnosed with cancer a month before her 16th birthday. Focused solely on her daughter's health and recovery, Kim tabled the master's discussion without a thought.
"We got through that first fight – 15 months or so of treatments. And then in January 2015, we received the all-clear – her scans showed no evidence of disease. Angel started getting her life back together, trying to graduate from high school on time. I went back to work and she was making her own college plans. I started thinking about my master's again, and she was really supportive of it."
As a single mom with a full-time job, Kim wanted the flexibility of online coursework. She was drawn to UA's 100% online master's in Human Environmental Sciences (HES) because of how it could elevate her career. The courses offered a focus in technology that she knew would complement her communication experience. However, she put her plans on hold again, this time for good news: she was expecting another baby.
Throughout the pregnancy, Angel continued to cheer on Kim's dreams of earning a master's. "She would say, 'You can go back to school, Mom! You got your bachelor's when I was little, and you can still get your master's.' We had this whole plan. I would have the baby and go back for my master's while Angel was earning her bachelor's."
But a few months before the baby was born, Angel's cancer was back. She got to meet her baby sister, Autumn, almost two months before she passed away that September. Kim said,  "I was just trying to survive – the loss of Angel and jumping into raising Autumn Brooks. Angel had lots of plans for the future for Autumn. She gave me lists of gifts to get for Autumn from her. Every Christmas, she gets a pair of Vans from her big sister. And every birthday, she gets a T-shirt from a list of Angel's favorite bands."
The T-shirts and shoes for Autumn weren't the only items on Angel's list for Kim. "Before she died, she made me promise I'd go back and get my master's. She told me that she couldn't finish and live her dream, so she wanted me to live mine."
That conversation kept playing in Kim's head and about a year later, she decided it was time to jump into her master's. She began the online HES program in Fall 2017. That same semester, she was hired at UAB Graduate School as the communications and events director. And on top of that, she was also managing a foundation she'd started after Angel passed away.
"It felt like a lot more than full time most days. And then I'm a single mom, so there is always so much going on. I started to think it was too much and I was close to dropping out, thinking I couldn't do it anymore. And every time, I thought of Angel and realized I couldn't quit. So I kept going. And Dr. McMath was great. She knew what was going on and was always helpful. I could still do everything else and tailor the coursework to my needs. It fit into my life instead of me having to fit my life around it."
One of her favorite qualities about the HES degree is how her courses were suited to her interests and career. "I don't think there was a class that hasn't been helpful or hasn't come back into play with the foundation or my job."
Kim's capstone project was a podcast for families impacted by childhood cancer. Before she was able to complete all the interviews, the COVID-19 pandemic began. "I was focused on health communication and how it's changed with social media. Interviewing families whose kids are going through treatment was my entire project, and it's really hard to do that when they're immunocompromised during COVID, of course." Kim contacted her professors with her dilemma, and they worked with her. "They were amazing. They let me tweak it and work from the interviews I had already conducted." Kim submitted her project and completed the coursework in Spring 2020.
"When I got the letter that they had reviewed my capstone and I had passed – that feeling was awesome. And then I got the diploma in the mail later, and I just felt this huge relief. I finished, and I did it for Angel. I know she was looking down and seeing me finish."
Kim thought the master's would be her last degree, but it gave her a desire for more. She said the research classes were tough, but "they made me realize how much I enjoyed research. Getting my master's helped me realize that I could do something a little more hardcore. Now I'm working on my PhD in Health Education and Promotion." Ultimately, she hopes to create programs and interventions for families who experience child loss.
"Once you get older and start a career and a family, you think 'There's no way I can go back.' But if I can do it, I think anybody can do it. It wasn't easy – not at all. It was very challenging. But it was worth it.  It's like childbirth, right? You're exhausted the whole nine months and when you hold that baby, all of it disappears. Well, when you get your diploma, it's like 'Oh, it was worth it.' That feeling of accomplishment that you can do something more than you thought. You're not limited to what you think – you can do so much more."
---
Published: July 12th, 2021