MASTER OF ARTS (MA) IN
Secondary Education (English Language Arts 6-12 Certification)
Online
Program Overview
Hone your skills as an English Language Arts educator and earn a degree from a university you trust without the hassle of commuting to campus.
Program Format

Online

Credit Hours

30

Tuition Per Hour

$440
Your master's, your schedule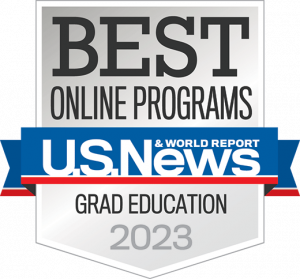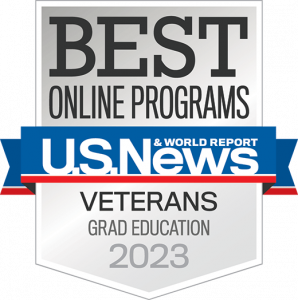 The online Master of Arts in Secondary Education for English Language Arts certification was designed for busy, working professionals like you who have an interest in earning an advanced degree online from a reputable institution.
Through this degree program you will explore ways to create environments that stimulate and challenge students to be engaged in the active processes of language use and learning. You will cultivate your abilities as an English Language Arts teacher by actively participating in research-based opportunities to thoughtfully plan and implement, and then critically evaluate and reflect on curriculum, instruction and assessment.
This program is designed for teachers currently certified at the bachelor's level in Secondary Education English Language Arts who are seeking an advanced degree and master's-level certification. The program's coursework reflects standards from the National Council of Teachers of English and the National Educational Technology Standards for Students and Teachers.
Application Deadline

Applications accepted year round

Fees

$10 College of Education graduate fee (per credit hour)

Accreditation

National Council for Accreditation of Teacher Education (NCATE)

Required For Entrance

Bachelor's-level teaching certificate

Other Program Specifics

*Test scores are waived through Fall 2022 semester applications
Curriculum
The MA in Secondary Education for English Language Arts 6-12 Certification consists of 30 credit hours. Please note that courses are subject to change.
Required Courses
BER 500 Introduction to Educational Research
CAT 531 Computer-Based Instruction
CSE 530 Modern Secondary School Programs
CSE 563 Improving English Instruction
In addition to coursework, students must pass a comprehensive written examination prior to completion of the program.
Additional Requirements
Electives: 3-6 credit hours
Foundations: 3 credit hours
Teaching Field: 12 credit hours
Special education survey course (if not previously completed)
Admission
To be considered for regular admission to the MA degree program, students must meet the following requirements:
A bachelor's degree from an accredited institution
A valid bachelor's level professional educator certificate in Secondary English Language Arts
An overall undergraduate GPA of 3.0 or a 3.0 average for the last 60 hours in a degree program, or a 3.0 or higher in a completed graduate degree program
Minimum score of 300 on the GRE or 50th percentile on the MAT*
*Test scores are waived through Fall 2022 semester applications.
A completed application package includes unofficial transcripts from all institutions attended, three letters of recommendation (one from principal/superintendent), a statement of purpose, official test scores, and a Graduate School application.
Applications are accepted each semester.
If you reside or intend to seek professional licensure outside of the state of Alabama, please review the requirements for that state prior to applying to this program.
Does this program require teacher certification in order to apply?
Yes, one must have a valid teacher certification in order to apply for the program.
If I have a degree and want to become teacher certified, can I apply for the program?
No, this degree does not lead one to become teacher certified if they have a degree in an area other than education.
Do I need to have teaching experience before applying?
No, you can apply for this program without having prior teaching experience.
You Can Do It
At The University of Alabama we want to help you tell a legendary story, and that begins with a premier education and strong support. You can succeed at earning your degree from wherever you are. Want to know more? Let our graduates tell you their UA Online stories.
Student Spotlight
Inspiring stories of success from students and alumni.
Take a look at some of our UA Online stories.
See All Stories