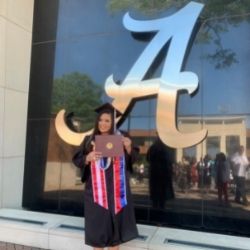 Crystal Cook is the daughter of a Marine and was born on a naval base in the Philippines – the only one of her siblings to claim dual citizenship. She considers Florida her home though, as it's where her family settled when her dad retired from the military to work for the sheriff's department.
After high school, she attended the University of South Florida for a couple of years but stopped to work full time before she finished her degree. With her dad's background, she ended up in law enforcement and has over a decade of experience in emergency medical services, 911 dispatch and the sheriff's office.
Crystal's husband, a veteran, transferred his GI Bill benefits to her so she could finish her degree, and she began an associate degree program in Criminal Justice. "The field came naturally to me because of my background and experience," Crystal said.
Inspired by her older sister Anna, Crystal wanted to pursue a bachelor's from The University of Alabama. "Anna had earned her bachelor's and master's degrees in Criminal Justice from UA, and I wanted to see if they had online courses. When I finished my two-year degree, everything transferred, and I could complete the rest online – I didn't even have to be in T-Town to accomplish my goal!"
In 2019, Crystal began earning her bachelor's in Criminology and Criminal Justice through The University of Alabama Online. "I started off with just two courses
at a time. I have two children and work full time, so I didn't want to take on too much at first," she said. She quickly increased her course load to four classes, realizing she could work on assignments during the night shift's downtime. One semester, she even took six classes!
"I don't know what I was thinking, and looking back, I don't know how I did it. It was a lot, but I was committed and there was no turning back. I pushed through and made it happen. I didn't do as well in all of my classes that semester, but I passed!"
Crystal said the online coursework was relevant to her work and helped her elevate her written communication skills. "The classes were all very interesting to me and related to what I do. I was able to plug concepts into my work life, and I was always writing something. I used to hate writing, but I actually enjoyed writing those papers. And I would read over my stuff and think, 'Oh, that sounds good!'"
Her electives offered more insights into topics that helped her in her personal and professional life. Crystal completed the program in May 2021, and
she is especially appreciative for the GI Bill and her husband's service that covered almost all of the costs. She's also grateful for UA's online option. "If the circumstances were changed and I had to attend a brick-and-mortar class, I probably wouldn't have been able to do it," she said.
Finishing her degree is the attainment of a lifelong goal for Crystal. "When I think back on all I've been through in life, finishing this degree is a huge milestone. There were lots of late nights, but it was worth it. There is a sense of accomplishment I have that nobody can take away from me, because I did it. That's mine. I get to own it and display it proudly."
Crystal is considering going back for her master's one day, but for now, she's proud of the example and legacy she has begun. "Now I can tell my boys to keep going. You can do it even if there are some hiccups along the way. If I can do it, they definitely can. I want them to see that Mom finished this – she started it and then she finished it."
Crystal and her sons are excited to share the UA spirit with their neighbors very soon. "All our neighbors are Gator fans, and one is an LSU fan. My husband is an FSU fan, but he owns Alabama attire. We're putting up a UA flagpole just as soon as we can!"
---
Published: July 15th, 2021