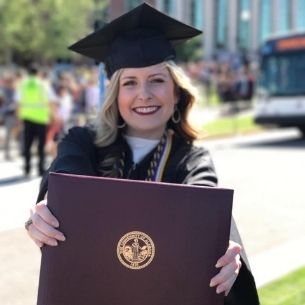 When Shelby Morrow graduated from The University of Alabama with her bachelor's in Secondary Education, she always knew she wanted to return for her master's one day. But accepting a position at her high school alma mater took her all the way to Dothan – over 200 miles from campus! "I wanted to further my understanding of teaching and learn more instructional practices to have more resources in my tool belt, but I just didn't think it was an option at UA with how far away I was," she said.
During the summer of 2020, Shelby's mom forwarded her an email about UA's online degree offerings from the College of Education. "I saw they were waiving GRE scores because of COVID, and that had always been another obstacle. I'd heard horror stories from friends about taking that test! When I saw I could get my master's from UA online and without taking the GRE, I knew it was time."
In Fall 2020, Shelby enrolled in the 100% online MA in Secondary Education with General Social Science 6-12 certification. As a UA graduate, she qualified for the Build on Bama tuition grant, which covered the tuition cost of her first class. And as the 18th member of her family to earn a UA degree, she was excited to be officially back in the
student body again. "Once classes started, I looked up my name in the student directory just to check, and when I saw it, I was so happy! I thought, 'Oh, I'm really back here!'"
"There are lots of group projects, so I've made connections with other teachers and I get to learn from their experiences. In my last class, we created a portfolio of online practices, and I was able to use some of those websites already in my classroom," Shelby said.
In the spring of 2021, Shelby accepted a job that will bring her back to Tuscaloosa for Fall 2021 — a move that will not disrupt her master's. She'll be teaching seventh grade geography and civics, and her master's program is helping to equip her for the transition from high school teaching to middle school. "I'm taking PCS 515 this summer, and it's all about government and congress, so that's going to help me a lot with teaching civics in the fall," she said.
Beyond her new gig, Shelby also has plans to use her master's later in her career. "Not only is it giving me new techniques and practices, but it will qualify me to be an instructional coach or teach at a community college one day."
Comments from her professors have motivated her to expand her career plans even further. "They've all been really great about giving good feedback that is encouraging and supportive but still tells me how I can do better." This feedback has given her confidence to consider a doctoral program so she can teach future educators as well. "I am thinking about a PhD one day because I remember my methods block from senior year when they taught us how to be good teachers. I always thought that was so cool, so maybe one day I'll be able to do that."
Shelby is on track to complete her master's in December 2022. "I just really appreciate being able to come back to Alabama – even when I wasn't here. I didn't want to go to any other school for my master's. I just wanted it from Alabama."
---
Published: July 1st, 2021